XUBEIHONG, FRAMED PAINTING 'TWO GALLOPING HORSES', 1943
See Sold Price
Don't Miss Your Next Treasure.
Set up a search alert to hear when Xu Beihong Paintings items arrive.
Auction ended on July 15th, 2017 UTC
XUBEIHONG, FRAMED PAINTING 'TWO GALLOPING HORSES', 1943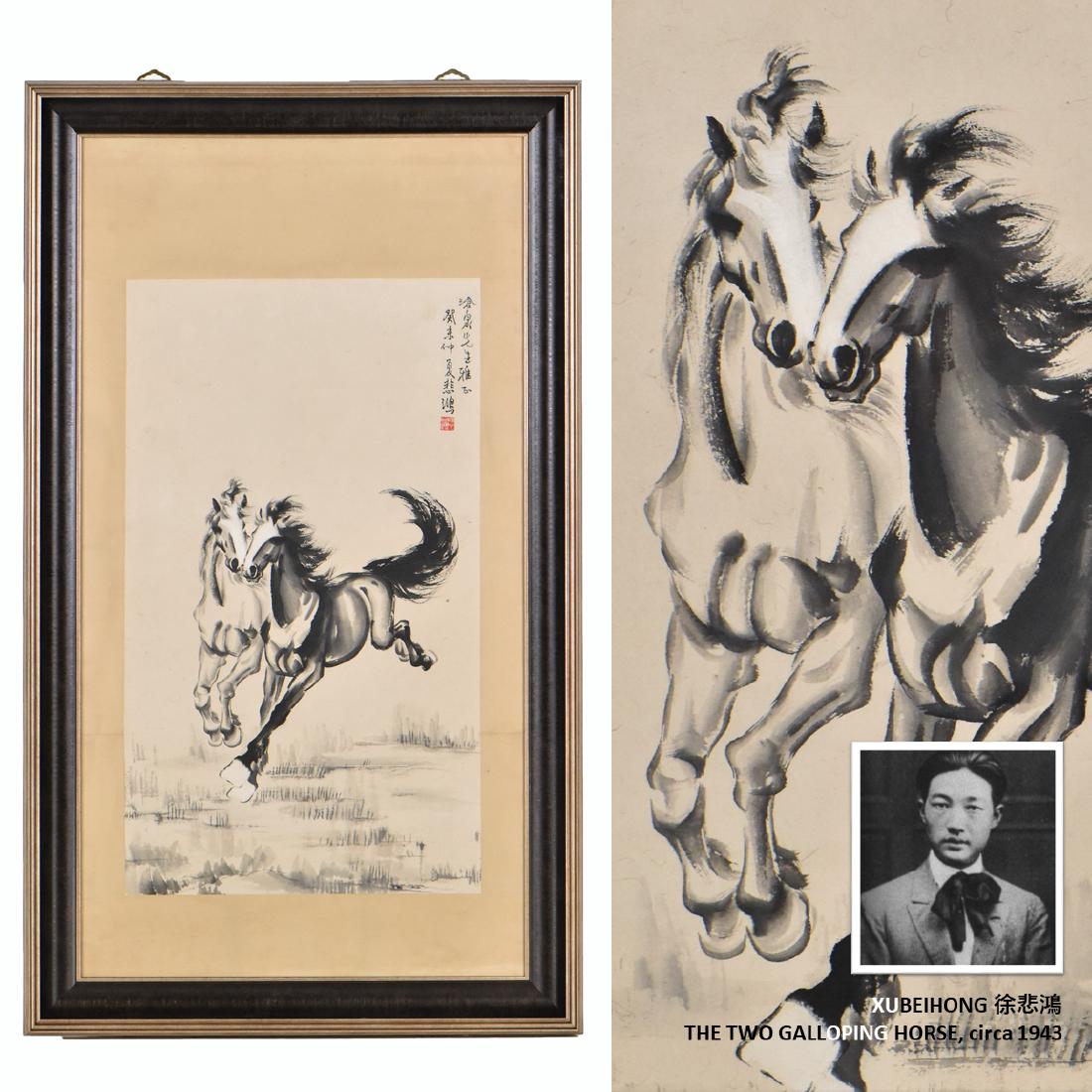 Xu BeiHong 徐悲鴻 (1895 - 1953), painted in the summer of Gui Wei year, 1943. A presented painting as gifts to General Chen CangQuan. Chinese ink and color painting on paper. Hand painted with spontaneous brushstrokes of two galloping horses. Painted with broad washes of layered graisalle ink, may represent Xu's response to such influences, liberating effect of this painting mode on the master artist's creativity, which gave a spontaneity to the compositions. Themed calligraphy inscription on upper right, signed and dated by artist, Xu BeiHong 徐悲鴻 , followed by iron-red seal.
Mounted on pale-brown silk border, set behind glass and wooden framed.

The portion of the sale will benefit a local church in Atlanta area.


Dimension: 51-1/2"h X 30"W

PROVENANCE:

From the collection of General Chen Qi 陳淇; (1912-2000), who styled himself as "Cangquan" (滄泉and "Yuquanshanren"玉泉山人), an artist, calligrapher, a prominent businessman and private antiques collector.
EDEN Fine Antiques Galleries is honored and proud to offer, once again, to be the last General Chen Qi's heirloom collections including unpublished painting from Zhang DaQian, Fu BaoShi, Qi BaiShi, Huang JunBi, Wu ChangShuo, Xu BeiHong, Dong ShouPing, Dong BangDa 董邦达, Li XiongCai, and many other famous artists; along with his extraordinary Chinese porcelain collections.
General Chen Qi's collections can be found on Lot-128 through Lot-161 (Day 1), continuing at Lot-402 through Lot-423 (Day 2).
For more information about General Chen Qi's Biography, please refer to provenance information at Lot 132.

http://chen-qi.net/

https://en.wikipedia.org/wiki/Chen_Qi_(collector)




LOT NOTES:


Xu Beihong 徐悲鴻 (Xú B?ihóng; 19 July 1895 – 26 September 1953) was a Chinese painter born in Yixing, Jiangsu province. He was primarily known for his Chinese ink paintings of horses and birds and was one of the first Chinese artists to articulate the need for artistic expressions that reflected a modern China at the beginning of the 20th century. He was also regarded as one of the first to create monumental oil paintings with epic Chinese themes – a show of his high proficiency in an essential Western art technique.[1]
Xu began studying classic Chinese works and calligraphy with his father Xu Dazhang when he was six, and Chinese painting when he was nine. In 1915, he moved to Shanghai, where he made a living off commercial and private work. He travelled to Tokyo in 1917 to study arts. When he returned to China, he began to teach at Peking University's Arts school at the invitation of Cai Yuanpei. Beginning in 1919, Xu studied overseas in Paris at the École Nationale Supérieure des Beaux-Arts, where he studied oil painting and drawing. His travels around Western Europe allowed him to observe and learn Western art techniques. Xu Beihong still wrote regularly for the Daily University of Peking University that dealt with wider issues then just campus politics. Xu addressed issues of Art and Art History and in 1920 a university art journal called Painting Miscellany was published.[2]
Xu Beihong and Jiang Biwei
He and his partner Jiang Biwei came back to China in 1927 and, from 1927 to 1929, he gained a number of posts at institutions in China, including teaching at National Central University (now Nanjing University) in the former capital city Nanjing.
In 1933, Xu organized an exhibition of modern Chinese painting that traveled to France, Germany, Belgium, Italy, and the Soviet Union. During World War II, Xu traveled to Southeast Asia, holding exhibitions in Singapore and India. All the proceeds from these exhibitions went to Chinese people who were suffering as a result of the war.
Galloping Horse
After the founding of the People's Republic of China in 1949, Xu became president of the Central Academy of Fine Arts and chairman of the China Artists Association. Xu Beihong was a master of both oils and Chinese ink. Most of his works, however, were in the Chinese traditional style. In his efforts to create a new form of national art, he combined Chinese brush and ink techniques with Western perspective and methods of composition. He integrated firm and bold brush strokes with the precise delineation of form. As an art teacher, he advocated the subordination of technique to artistic conception and emphasizes the importance of the artist's experiences in life. Of all of the Painters of the modern era, it can be safely said that Xu is the one painter most responsible for the direction taken in the modern Chinese Art world. The policies enacted by Xu at the beginning of the Communist Era continue to control not only official Government Policy towards the arts, but they continue to direct the overall direction taken in the various Art Colleges and Universities throughout China.
Xu enjoyed massive support from art collectors across Asia. Between 1939 and 1941, he held solo exhibitions in Singapore, India and Malaya (Penang, Kuala Lumpur and Ipoh) to help raise funds for the war relief effort in China. In one war benefit exhibition in March 1939, Xu held a group exhibition with Chinese ink painting masters Ren Bonian and Qi Baishi, and showcased 171 works of art at the Victoria Memorial Hall.[3]
He also met luminaries such as Rabindranath Tagore and Mahatma Gandhi during his stay in India, and got his sources of inspiration which led to the creation of iconic works such as the 4.21m-wide The Foolish Old Man Who Removed the Mountains painting on show at the Singapore Art Museum (SAM). Artworks like After a Poem of the Six Dynasties, Portrait of Ms Jenny and Put Down Your Whip were also created during his sojourns in Southeast Asia. SAM Director Kwok Kian Chow mentioned that Xu's name tops the list in Asian modern realism art, and his connections with various parts of Asia and Europe opened a new chapter of historical narratives, exchanges and influences of aesthetics and ideas in art.[1]
Xu constantly pushed the boundaries of visual art with new techniques and international aesthetics, in bid to reinvent Chinese art. In fact, Xu's influence extends beyond China in the early 20th-century. Many pioneer Singapore artists such as Chen Wen Hsi, Lee Man Fong and Chen Chong Swee looked up to him as a mentor and a worthy peer, sharing Xu's advocate to closely observe nature and inject realism into Chinese painting.[4]
Xu died of a stroke in 1953. After his death, a Xu Beihong Museum was established at his home in Beijing.
Condition
Over all in EXCELLENT Condition. Natural imperfection on the medium (paper or silk), regardless from any major damages; includes light blooms, discoloration and minor fading. Consider normal due to the ages.


The bidder assumes responsibility for ensuring that the condition of the item(s) meets with their satisfaction prior to bidding. Any condition statement is given as a courtesy to a client, and is only an opinion and should not be treated as a statement of fact. EDEN Galleries shall have no responsibility for any error or omission. The absence of a condition statement does not imply that the lot is in perfect condition or completely free from wear and tear, imperfections or the effects of aging.
Buyer's Premium
25% up to

$100,000.00

20% up to

$1,000,000.00

15% above

$1,000,000.00